Our Disciplined Process
At Prentis Wealth Management, we believe that the process and discipline essential to achieving investment success includes making a plan, executing the plan and reviewing the plan.
Our approach to creating investment portfolios begins by aligning your investments with your goals and risk tolerance.
Learn your story: where you have been, where you are, and where you are going
Discuss values, goals, transitions, hopes, priorities, and concerns
Understand your perspectives on important money issues
Uncover the resources available to you today and that will be available to you in the future
Organize your finances and analyze your current situation
Develop a personalized investment plan around your current and future lifestyle and legacy goals
Define investment objectives and any specific portfolio constraints
Design an asset allocation and conduct stringent due diligence to identify the best-in-class strategies that may both align with your values and fit your distinct needs
Review the proposed asset allocation and investment plan
Review the recommended investment portfolio
Make specific recommendations related to all aspects of your financial life
Initiate your investment plan following mutual agreement
Execute solutions in an independent, objective, and unbiased manner
Phase in the investment recommendations focusing on reducing costs, taxes, and risk
Collaborate with other trusted advisors–CPAs, estate planning attorneys, etc.
Evaluate progress according to your plan
Reconfirm your goals, values, and cash needs
Adjust your plan and investments when necessary as markets, tax laws, and your needs evolve
Keep you and your advisors informed and help you navigate timely options and opportunities
Asset allocation and diversification are investment methods used to help manage risk. They do not guarantee investment returns or eliminate risk of loss including in a declining market.
Investment Philosophy
We believe portfolio construction should be tailored to the individual. We want to learn about you and develop an asset allocation that we believe will best meet your unique goals—combining our own research with that of leading third parties. We build and manage your customized portfolio by selecting best-in-class investments that align with your values and help meet your individual, family or institution's needs.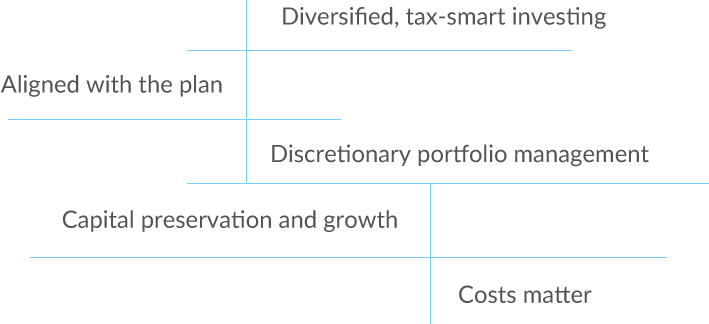 1 IMPORTANT: The projections or other information generated by Envision regarding the likelihood of various investment outcomes are hypothetical in nature, do not reflect actual investment results and are not guarantees of future results. Results may vary with each use and over time.
Ready to start planning your legacy?